Home
Latest News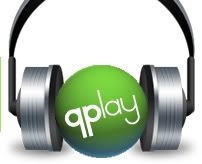 Welcome to musiqplay.com or QPlay, your official music-servicing site for Christian Hip-Hop!  We are excited about finally having a place where radio stations can get all the best Christian Hip-Hop in one place.  With over 100-radio stations part of the qplay music-servicing site, this is the perfect place for labels, managers, and artists to upload their latest singles at a low cost.  Radio stations will now have the ability to download all the latest singles in high-quality .mp3 or .wav format to use for their stations.  They will also have the capability to view song bio & lyrics, promotional picture, artist & label information, and promoter information (if applicable).  It's easy to register and once registered, we will approve your registration within 12 hours as either a radio station or label.  Radio stations will have access to the download page to view all the latest singles while record labels will have access to upload any singles.  The servicing of singles to radio does not occur until we receive payment through our PayPal Pro payment gateway.  All major credit cards are accepted. 
QPlay is a proud supporter of one of the fastest-growing genres in Christian music, Christian hip-hop. With the success of artists like Lecrae, Pro, Trip Lee and more, Christian hip-hop artists and labels didn't know how to get their music out to radio stations that actually support this genre. QPlay currently has over 100 radio stations playing Christian hip-hop and the list continues to grow each day. 
QPlay is a music-servicing site and we still recommend hiring a Radio Promotion company to push your music to radio. Programmers have many choices and don't add everyone so having someone advocating for you over the phones is a "best practice." Starting December 1st, QPlay will have music testing for you to see how your song is ranking against others on QPlay, radio stations can leave comments viewable only by you and total listens and eventually downloads to see just how many people are listening to your song. 
QPlay is continuing to grow. If you are ready for your music to be heard than join QPlay today!